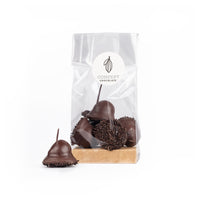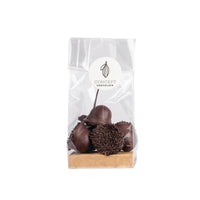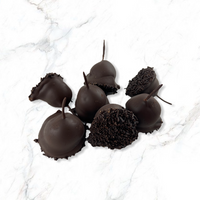 Description
When a whole cherry covered in chocolate becomes irresistible...
It's hard to resist a juicy and sweet cherry coated in 65% dark chocolate. But when these cherries are also macerated in kirsch, it becomes an irresistible combination that satisfies all the senses.
The crunchy texture of chocolate mixes with the sweetness of cherry, creating an explosion of flavors in your mouth. The touch of alcohol from the kirsch adds an intense but delicious note that goes perfectly with the cherry and chocolate.
These little bites are perfect for a special occasion or simply to treat yourself to a little gourmet pleasure.
It's hard not to be tempted by these cherries. Their flavor and texture are perfectly balanced, offering an incomparable taste experience. Whether for treat or as a gift, these cherries are a perfect choice for all chocolate and fruit lovers.
| | |
| --- | --- |
| Weight | 100 g |
| Tips | Storage and Tasting: Store the chocolates in their packaging in a dry place between 15 and 18°C ​​away from light and humidity, do not store in the refrigerator. To best appreciate the taste qualities of chocolates, we advise you to taste them in a calm environment, at a temperature close to 21°C. |