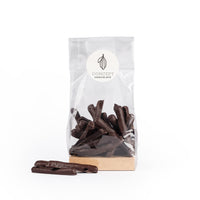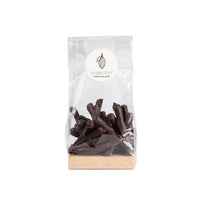 Citronettes - Dark Chocolate
Description
Slices of candied lemon coated with dark chocolate.
Citronettes are a delicious artisanal confectionery made from candied lemon peels coated in 65% dark chocolate. This specialty, less known than orangettes, is just as tasty and refreshing.
To prepare citronettes, the lemon peels are blanched to remove their bitterness, then candied in a sugar syrup. Once candied, the barks are coated with white chocolate or melting dark chocolate to give them a crunchy texture and a sweet and tangy flavor.
Citronettes can be enjoyed as a treat or used to decorate desserts such as cakes, pies or ice cream. They are also perfect to accompany a cup of tea. With their deliciously tangy taste and crunchy texture, citronnettes are a refined delicacy that will delight all chocolate and lemon lovers.
| | |
| --- | --- |
| Weight | 150 g |
| Tips | Storage and Tasting: Store the chocolates in their packaging in a dry place between 15 and 18°C ​​away from light and humidity, do not store in the refrigerator. To best appreciate the taste qualities of chocolates, we advise you to taste them in a calm environment, at a temperature close to 21°C. |