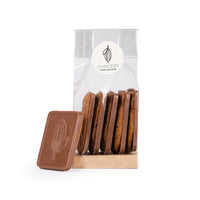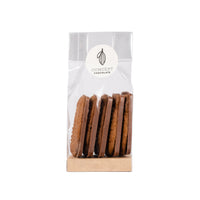 Le Recto-Verso - Speculoos biscuit with a milk chocolate bar
Description
The Speculoos biscuit is a classic pastry, appreciated for its spicy taste and crunchy texture.
But now imagine a special creation that adds a mini bar of 38% milk chocolate to this delicious cookie on the back - a perfect match for chocolate lovers!

This new creation combines the distinct flavor of Speculoos with the sweetness of milk chocolate, creating an incomparable taste experience. The Speculoos biscuit is first prepared with spices such as cinnamon, nutmeg and cloves to give a warm and comforting flavor.

Once the cookie is baked and cooled, a thick bar of milk chocolate is stuck to it, creating a crispy layer that contrasts perfectly with the crunchy texture of the cookie.

The end result is a Speculoos cookie that is more gourmet than ever. The spices of the biscuit harmonize perfectly with the softness and richness of milk chocolate, creating an explosion of flavors in the mouth. This Recto-verso biscuit is ideal for afternoon snacks or for moments of indulgence. It is also perfect to accompany a cup of coffee or tea, adding a touch of luxury to your coffee break.

Try this special creation to discover the perfect marriage between two culinary delights. You will never be able to go back to the ordinary Speculoos biscuit after having tasted this rich and gourmet version!
| | |
| --- | --- |
| Weight | 100 g |
| Tips | Storage and Tasting: Store the biscuits in their packaging in a dry place between 15 and 18°C ​​away from light and humidity, do not store in the refrigerator. To best appreciate the taste qualities of the biscuits, we advise you to taste them in peace, at a temperature close to 21°C. |
#biscuit #chocolate #gourmandise #sweetness #biscuitfaitmaison #minitablettedechocolat #biscuitauchocolat #chocolatelover #patisserie #delicieux #creationspeciale #gouter #biscuitsetchocolat #instafood #biscuitaddict #chocolataddict #petitplaisir #mariageparfait #chocolataulait #biscuitartisanal