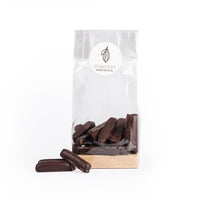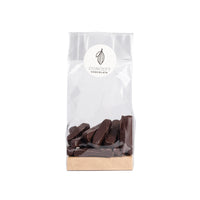 Gingerettes - Dark chocolate
Description
Candied ginger roots coated in dark chocolate: an irresistible combination!
Gingerettes coated with 65% dark chocolate are a unique and delicious artisanal confection that combines the spiciness of ginger and the intensity of dark chocolate. These sweets are perfect for lovers of strong and spicy flavors.
To prepare dark chocolate coated gingers, fresh ginger is peeled and cut into thin strips, then it is candied in a sugar syrup to give it a soft texture and a spicy sweet taste. The ginger strips are then coated in dark chocolate with a cocoa content of 65% for an intense and slightly bitter flavor.
The coated gingers are perfect to be enjoyed as a treat at any time of the day. Candied ginger brings a tangy and spicy touch that goes perfectly with the intensity of dark chocolate. With their unique taste and soft texture, 65% dark chocolate coated gingers are an artisanal delicacy not to be missed for those who love strong and spicy flavors.
| | |
| --- | --- |
| Weight | 100 g |
| Tips | Storage and Tasting: Store the chocolates in their packaging in a dry place between 15 and 18°C ​​away from light and humidity, do not store in the refrigerator. To best appreciate the taste qualities of chocolates, we advise you to taste them in a calm environment, at a temperature close to 21°C. |