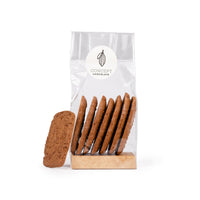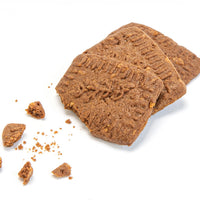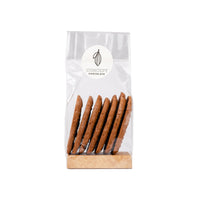 Brown classic speculoos cookie
Description
A delicious classic!
The speculoos biscuit is a specialty of Belgium and the Netherlands that has become popular around the world for its unique and spicy flavor. This crispy, golden biscuit is perfect to accompany coffee or tea, but can also be used in the preparation of desserts such as cheesecakes, pies or crumbles.
The speculoos biscuit is made from a dough made from flour, brown sugar, butter and a mixture of spices, such as cinnamon, nutmeg, cloves and ginger. This dough is then rolled out thinly and cut into specific shapes, which can vary depending on tradition and region.
The classic speculoos biscuit is appreciated for its intense and spicy flavor reminiscent of Christmas time, but can be enjoyed throughout the year. The spices used in its manufacture give it a warm and comforting flavor that evokes childhood memories. In addition to its delicious flavor, the classic speculoos cookie is also appreciated for its crunchy texture and irresistible crunch.
In short, the speculoos biscuit is an artisanal biscuit that will seduce all lovers of spicy and warm flavors. Whether enjoyed on its own or used in the preparation of desserts, it brings a touch of comfort and conviviality to every bite.
| | |
| --- | --- |
| Weight | 100 g |
| Tips | Storage and Tasting: Store the biscuits in their packaging in a dry place between 15 and 18°C ​​away from light and humidity, do not store in the refrigerator. To best appreciate the taste qualities of the biscuits, we advise you to taste them in peace, at a temperature close to 21°C. |