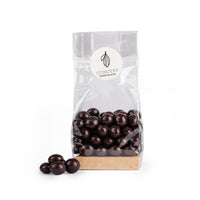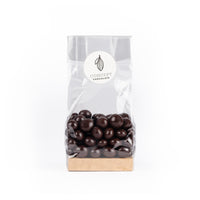 Coffee beans coated with dark chocolate
Description
We are proud to present our delicious creation: dark chocolate coated Colombian coffee beans.
Our coffee beans are carefully selected from the best Colombian Arabica coffee producers, for their unique flavor and delicate aroma. They are then covered with several layers of premium dark chocolate, for an unforgettable tasting experience.
Our dark chocolate coated coffee beans are the perfect option for all coffee and chocolate lovers. The flavors come together perfectly to deliver a complex and delicious taste experience, with a touch of crunch and sweetness.
Our artisanal recipe is made with natural and high quality ingredients, for a tasty and authentic product. Dark Chocolate Covered Coffee Beans are also a great choice for gifting loved ones or enjoying on their own.
Succumb to temptation and treat yourself to an exceptional gourmet break with our dark chocolate coated coffee beans. We're confident you'll love this unique combination of flavors, so don't hesitate to order now to enjoy at home.
Order now to enjoy our delicious creation and fast delivery.
| | |
| --- | --- |
| Weight | 150 g |
| Tips | Storage and Tasting: Store the chocolates in their packaging in a dry place between 15 and 18°C ​​away from light and humidity, do not store in the refrigerator. To best appreciate the taste qualities of chocolates, we advise you to taste them in a calm environment, at a temperature close to 21°C. |